We care deeply about our people and their communities
Let's Get Started!
One click away from becoming a homeowner!
Satisfied Clients
Thomas
Fort Mill – SC

Trevor and Anthony were great to work with. Having never been through this before, they made the process very easy. They kept us informed every step of the way. I appreciated that they presented everything we needed to know in a straightforward, easy to understand way.
Juli
Rock Hill – SC

Tony and Michelle were very timely and responsive. They would go out of their way to help whenever we had questions or needed help! Tony especially made sure we were getting the most bang for our buck during our experience.
Joel
Vale – NC

Good honest and hard-working people are few and hard to find these days. You did what you said when you said. Hats off to you and your team for a job well done!
Matt
Charlotte – NC

Tony was so great to work with!  He was patient with all of my questions and so knowledgeable.  I would recommend him to ANYONE looking for the best!
Brandon
Charlotte – NC

Hayden is extremely personable and knowledgeable. He kept us updated on every step of the process and we truly felt as though our best interest was at the forefront of his mind. He is also extremely quick and efficient. We had a short time to close and he completed everything with time to spare. Cannot recommend his services enough.
Jeramie
Lancaster – SC

Trevor, Anthony & team: Not only did you help me with my first purchase of a home 6 months ago-now we have 2 under our belt together. Your team was A+ throughout this process! Thanks for always being available and ready to help.
Donald
Charlotte – NC

The communication and professionalism of the team made a big difference. The whole process wasn't too overwhelming for us despite being first-time home buyers due to the efforts of the team.
Aiden
Rock Hill – SC

Through communication, transparency, and dedication. Overall great experience and look forward to working with again in the future.
Jeffrey
Charlotte – NC

Great experience and fast closing. The easiest mortgage experience we have ever had.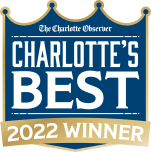 Get in Touch
ADDRESS 8832 Blakeney Professional Dr. Suite #102
Charlotte, NC 28277
EMAIL ADDRESS info8675@fairwaymc.com
PHONE NUMBER 704-541-1172
Ken Land NMLS# 108157
Contact Us
Send your question to us, we will contact you soon.
By entering your contact information, you are providing express written consent for Fairway Independent Mortgage Corporation to contact you at the email and number you provided via telephone, mobile device, automated means like auto dialing, text SMS/MMS, and pre-recorded messages, even if you are registered on a corporate, state, or federal Do Not Call list. You are also acknowledging and agreeing to our terms of service and privacy policy. Consent is not required to use our services.
*Up to $5,000 of the forfeited earnest money deposit funds, up to $1,500 total toward the reimbursement of lost moving and storage expenses, and/or up to $1,000 total toward the reimbursement of lost inspection and appraisal fees guaranteed to buyers if Fairway Branch 8550 doesn't close as per the sales contract and any addenda. Guarantee period starts with the completion of the application with Fairway and is only valid under the following conditions: 1) Borrower must submit all documentation within 24 hours from the time requested; 2) Borrower may not change the loan product(s) and/or terms originally applied for; 3) Borrower is not applying for VA, Bond or Brokered Loan; 4) missed contract closing date is not attributable to third parties such as a lack of certificate of occupancy, unresolved title issues, etc., a closing date extension request from buyer or seller or events outside the control of Fairway Independent Mortgage Corporation, including inclement weather, natural disaster, or other catastrophic events. Contact your Fairway loan officer to determine if you qualify. Settlement service providers are not eligible. May not be redeemed for cash. If applicable, Guarantee will be applied at closing as a lender credit on the Closing Disclosure. Guarantee subject to change without notice and is not valid with any other incentives or discounts. Borrower is responsible for the down payment. No part of credit can apply to or offset down payment. Loan must close on or before April 30, 2023. Promotion expires April 30, 2023.